Johan Holmseth and Thomas Emilian Fjorden are two students who are finishing their Flight Instructor course with us. Before they go back to Norway we wanted to have a small chat with them to know their point of view about the course they have just taken, about Barcelona Flight School and also abouts their thrilling profession.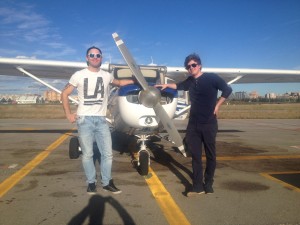 BFS: Why did you choose Barcelona to study your FI course?
J&T: Barcelona is a very atractive city. We were looking at other countries like Poland, Hungary etc… Even we looked other schools in Spain but BFS was the one that seemed to be more professional to us.
BFS: How did you know about Barcelona Flight School?
J&T: Several former students are friends of us. Two of them had taken the FI course just before our course. They talked us very well about the school.

BFS: What's your opinion about your experience in the school and the course?
J&T:  Instructors are really good, they are very good teachers. The course is very useful, you have to work hard in presentations during the ground school. We have learned a lot.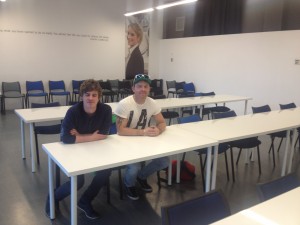 BFS: What about the future? What are your plans from now on?
J&T:  We will go back to Norway, we know that there are several opportunities there to enter in an Airline. Maybe we work as instructors some time until we can start working in a company.
Having the FI rating and experience is something that Airlines really appreciate.
We want to express our thanks to Johan and Thomas for this interview
About the FI (Flight Instructor course)
The FI course is a very practical course where the student, not the teacher, is the star and the main character. The objective of the course is to train students to reach the level of knowledge and skills necessaries to actuate as Flight Instructor and train in the techniques of teaching both in theory and in practice.
The course structure is composed by a 125 hours of theoretical phase or ground school where the student learns how to prepare and develop a lesson in a classroom and 30 hours of flight phase where the student become an instructor and the instructor become a student. At the end of the course a skill test has to be passed to obtain the Flight Instructor Rating.
In Barcelona Flight School we train a lot of pilots as instructors so we really believe that becoming a trainer is a great point in a future pilot formation.
During 2016 we will do three FI courses, taking place in February, May and October. Due to our excellent weather conditions, our big fleet (more than 40 aircrafts) and our location in Sabadell Airport, 20 minutes far from Barcelona city center, a lot of foreigner students choose BFS for their training. They come from northern Europe, Asia, Persian Gulf, northern Africa, etc.,  and we are very proud of it, trying to improve day by day to offer the best quality training for all of them.
About Barcelona Flight School
Barcelona Flight School has pioneered pilot training in Spain, providing aviation training since 1.953. Since its very beginning, our school has trained more than 4.000 pilots and is active at all times promoting all kind of aviation courses, whether they are for ab-initio pilot training or for recurrent and skills training.
No other single school in Spain has the same experience training future pilots than Barcelona Flight School. This fact, paired with exceptional weather and an excellent aircraft fleet and instructor team, makes our school the natural selection for the serious student.