Becoming a pilot: point of view
Marina Ruis and Alexia Sabaté are two of our ATPL programme students. Marina is already a Private Pilot with about 100 flight hours of experience and she loves aerobatics. Alexia is a nurse who started from zero on November last year 2015. They are two women in a world that used to be a man's one but it is not anymore. We have had a chat with them just to know how they see the present and the future of their lives as a pilots.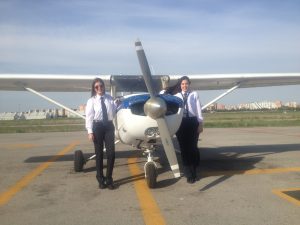 BFS.- When and why did you decide you wanted to be pilots?
Marina- After I got my PPL license I realized that I only wanted to live flying. This is my passion and I want it to be my way of life.
Alexia- Since I was a child aviation liked me very much. I thought it would be very hard to become a pilot but when I realized that being any other profession was very hard as well I decided to go for my dream. I really love a fixed place of work or live.
BFS.- How is the experience going? As expected?
M